CTC Tourism offers amazing deals on all parks, tours and attractions this season! With upto 50% off, it's a deal of a lifetime to explore and experience Dubai like never before! Take your vacation to the next level amazing by visiting Dubai's Parks and Resorts with Coast To Coast Tourism (CTC) – Dubais leading destination management company, Create memories and stories that will be told for a lifetime. Buy your tickets at lowest rates with the on-going discounts for an experience like no other. Get your tickets today at CTC Tourism. For all Offer please visit https://www.ctctourism.com.
Below are some of the products which are on offer!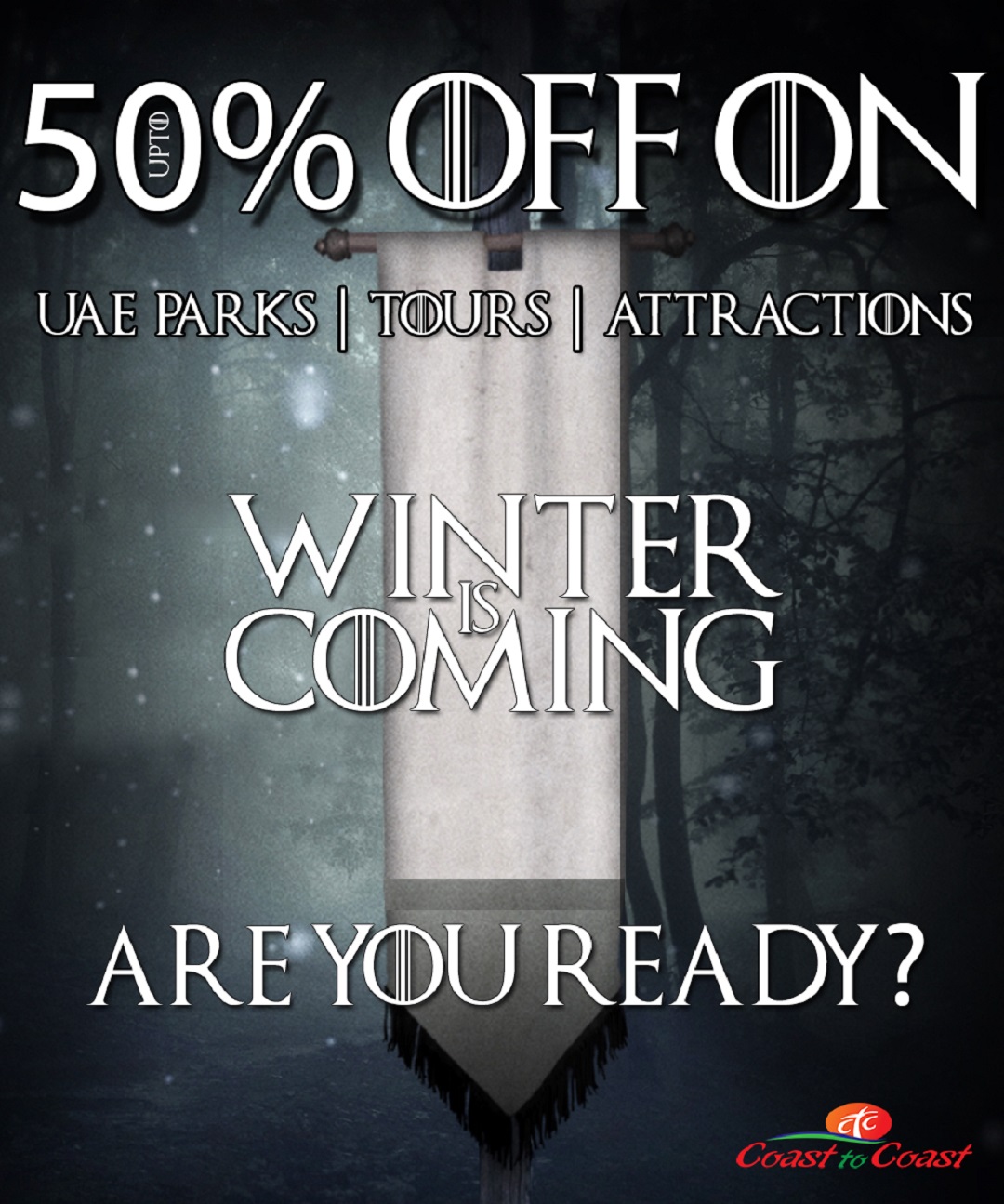 Dubai Fountain Boardwalk Tickets The Dubai Fountain is the tallest performing fountain in the world! At over 900 ft. in length, it is equivalent to two football fields. Dubai fountain performs to various melodies and is located on the Burj Khalifa Lake. It features extremely powerful nozzles that shoot water up to an impressive height. The Dubai Fountain performs to a range of songs varying between classic, contemporary and world music. When operational, the fountain has over 22,000 gallons of water in the air at a moment. With over 6600 WET super lights and 25 color projectors, viewers get a visual spectrum of over 1000 different water expressions and 50 color projectors provide a full spectrum of color. The Dubai Fountain Boardwalk is a floating bridge connecting the Burj park/fountain promenade to the Burj Lake. You can take a walk through the 272-metre boardwalk towards the Dubai Fountain, inching as close as 9 meters from the world's largest performing fountain. Enjoy the ecstatic dance of lights, water, soft music and serene backgrounds by booking your Dubai fountain boardwalk tickets today!
VR Park Tickets Of all the amazing experiences you can have at the Dubai mall, the VR Park is one experience you shouldn't miss! This indoor theme park offers an incredible virtual reality experience that augments reality and leaves you in sheer amazement. The attractions are fun and exciting for adults as well as kids. VR Park is a change from a regular park, tour or sightseeing experience. At VR Park you will be fully immersed in virtual reality by either walking around in virtual space or on VR motion platform. You will be instantly transported to a new world. Have a blast enjoying the entertainment of the future! Get you VR Park tickets and avail the best offers today.
IMG World of Adventure Tickets IMG Worlds of Adventure Dubai is one of the newest attractions for families and groups travelling to Dubai. IMG world is the world's largest indoor theme park, it features over 1.5 million square feet of thrilling attractions and activities. IMG worlds of adventure are the region's first mega themed attraction. Featuring diverse adventure zones like Marvel, Lost Valley, Cartoon Network, IMG Boulevard, and Novo cinemas - All packed with an extensive array of rides, shopping outlets, movies, meet and greet and dining options. This makes IMG World's really unique as it is the first of its kind theme park to have exclusive zones for several rides based on popular comics and animation brands. IMG Worlds of Adventure is therefore designed to fulfill the leisure needs of visitors of every age group and interest. IMG Worlds can be easily accessed through IMG Boulevard, which is also one of the park's main attraction. The park also includes Novo Cinemas – a multiplex cinema screening the latest blockbuster movies. Backed by avant-garde technology, replete with an advanced IMAX screen and two VIP theatres with separate entrances. Plan your visit with CTC tourism and grab the best rates and offers for IMG World tickets with family and friends today!
Legoland Theme Park Tickets LEGOLAND - Fun, Colorful & Inspirational Legoland is where awesomeness awaits you and your family. Looking for a great day out or short break to escape from your busy schedule? Bursting with interactive family rides, live shows, building workshops, and amazing attractions, all built using Lego brick, Legoland is the place to be. Legoland is specially designed for kids between the age group of 2-12 years. Here your kid can pilot a plane, steer a boat or be a hero by rescuing a burning structure. Visit the Lego Factory to learn how Lego bricks are manufactured and explore one of the biggest Lego stores in the Middle East's. Grab some selfies with the life-size Lego models at the park that represent the most iconic attractions of the Middle-East. Our Legoland tickets and exciting offers with pick-up and drop-off facility allow you to experience this incredibly fun and imaginative world, hassle free. Book your Legoland tickets now!
Motiongate Tickets Motiongate - The Magic of Hollywood Visit Motiongate and discover the magic of Hollywood like never before! The world's best motion picture studios like DreamWorks Animation and Columbia Pictures gives you the experience unlike any other. Create memories as you visit the mind-blowing attractions across 5 zones and 40 world-class rides at Motiongate Dubai and experience the awesomeness. Be a guest at the Hotel Transylvania or battle the supernatural in Ghostbusters or just sit back and enjoy the underworld in 4D. There's something for everyone! Book Motiongate tickets with family and friends and get ready for an experience of a life-time! Experience one of the best parks among Dubai's parks and resort.
Ski Dubai - Snow Classic/Snow Plus Tickets Take a break from the heat of Dubai and head to the Ski Dubai in the Mall of Emirates. It's nothing short of a wonder-land. Ski Dubai is spread across an area of 22,500 square feet, the park includes an awesome snow park, five slopes of different heights and sizes and a huge skiing area. Snowboarding, skiing, and tobogganing are some of the fun activities you can do here. You need not worry about the cloths and accessories as Ski Dubai will provide you with everything you need to be comfortable in the cold temperatures inside. From boots to jackets and gloves to helmets, everything is given right before you enter the park. No matter what your age, Ski Dubai and Snow World offer entertainment to everybody. So book your Ski Dubai tickets with us and enjoy the rides, attractions, and activities of this wonderful park. No longer wait in long ques to get your tickets. Book with us to avail great Ski Dubai offers and gain direct entry to the park.
Warner Bros World Tickets - Abu Dhabi Warner bros world is the place which brings together all your favorite characters and stories under one roof to offer you and your family a fun filled exciting day. Create many memorable moments with family and friends as you make your way through this world of adventure and action. This exciting land is centered on the Warner Bros Plaza. You can go back in time and walk through a portal to Bedrock, visit Dynamite Gulch, Cartoon Junction, Gotham City or Metropolis and be prepared to be transported to these unique and fun environments. Expect everyone from Batman to Bugs Bunny, Superman to Scooby-Doo to be there. Experience the 29 state-of-the-art thrilling rides, host of interactive family-friendly attractions and unique live entertainment. And, when it's time to grab a bite, head towards the wide variety of dining options available. Dining options range from a grab-and-go to full-service sit-down restaurants and cafes. Pack your bags and visit the Warner Bros world today! You can get your Warner Bros tickets at the best rates here. It's just a click away.
Ferrari World Tickets - Abu Dhabi Ferrari world – Fun Fueled by Ferrari Make your trip to UAE's exciting and adventurous Ferrari World located in Abu Dhabi's Yas Island. Break records, race with champions, discover the incredible world and see some of the most exquisite cars ever made or even drive one for yourself! Ferrari world offers over 37 incredible rides & attractions among which the Rossa is the most popular one, running at a speed of 240 km/hour, it is the fastest of the lot. You surely are in for a great time! High-speed and racing is the theme of the day. Did you know that Ferrari World is spread across an area of 86,000 square meters and has been built using 12,000 tons of steel? Now that's incredible. Be sure to grab some great Ferrari souvenirs from the Formula One souvenirs shop as you explore this amazing park. After all this excitement and speed, you can get a bite for those hungry tummies in the various dining options available in Ferrari world. So book your Ferrari world tickets now and come visit this mind-blowing place with family and friends. Ferrari world offers the best of everything and your tickets are just a click away! Experience one of the best parks among Dubai's parks and resort.
Abu Dhabi City Tour Tickets Discover the Arabian glory, the capital of the United Arab Emirates, "Abu Dhabi". During the Abu Dhabi City Tour you get to enjoy the beauty and culture that Abu Dhabi has to offer. The capital of the UAE has attractive contrasts that are visible in its skyscrapers, villas, mosques and palaces along its Riviera-like breakwaters. The majestic Sheikh Zayed Mosque is the third largest in the world, and a marvelous example of Islamic architecture. On the Abu Dhabi city tour you will have the opportunity to view all the important landmarks of the capital city with the comfort and knowledge of a well experienced tour guide. Sights to See: Sheikh Zayed Road, Jebel Ali Port, Grand Mosque, ADNEC Tower, Emirates Palace Hotel , Presidential Palace , Break Water, Heritage Village, Marina Mall, Abu Dhabi Corniche , Dates Market, Yas Island View, Ferrari World Theme Park , Yas Water World, Louvre Museum.
Arabian Desert Safari Tickets Evening Desert Safari is a perfect safari tour for those who visit Dubai to experience the thrill of the Arabian culture. Our 4x4 Land Cruiser takes you into the spectacular dunes for a thrilling drive like roller coasters deep in the desert. Dune Bashing Dubai is one of the most interesting tour items to have great fun with your friends and loved ones. You can have a slice of adventure in the desert at the same time can enjoy the scenic view of the desert. Dune Bashing Dubai is a pure form of fun, thrill, and adventure coupled with a tinge of the natural beauty of the desert. Tour begins with pick up from a designated location. Our skilled safari guide will then take you on an enthralling drive in a 4X4 vehicle through the majestic sand dunes of the UAE to experience hard core dune bashing for an hour, which will surely be one of the most thrilling yet beautiful drives of your life. You then have a photo stop with the beautiful desert in the background. Once your tour comes to an end, our guide will drop you back to your location.
Exotic Bird Show Tickets - Dubai Creek Park Dubai Dolphinarium brings to you one of the unique attractions in the UAE. The first & only show featuring exotic birds in Dubai Creek – Bird Show. Some of the most unique and amazing birds of distinct species perform tricks and keep you mesmerized. Beautiful and fascinating species of birds include the sun conures, Amazon parrots, cockatoos, blue & gold macaws, green-winged macaws, hornbill, toucans, falcons & Eclectus parrots await to amaze you with their talents & skills. Become a part of the show as the birds fly overhead and interact with the audience! You have got to experience this, one of the best parks among Dubai's parks. Get you Bird show – Dubai Creek tickets now!
Bollywood Park Tickets Bollywood Park - Enjoy your time Bollywood Style! The first theme park in the world dedicated to Bollywood! Music, dance, action, romance, comedy, emotions and remarkable dining choices - Everything Bollywood under one big roof covering 1.7 million square feet. Bollywood theme park celebrates Mumbai's legendary film industry in 5 different zones inspired by the hit blockbusters. Enjoy live entertainment, cinematic rides and stage performances. An experience unlike any other! You will live, learn, breath and experience the famous world of Mumbai's film industry.
While Bollywood Boulevard welcomes you to live shows, excellent dining and shopping options, Mumbai Chowk lets you immerse yourself in the dynamic and lively city - Mumbai! You can also take a walk in the rural villages of India. Visit the scenes of Lagaan: Champaner Cricket Carnival, Sholay: The Hunt for Gabbar Singh and Dabangg: A Stunt spectacular show. Shake-a-leg to the Bollywood beat with your family and friends! Experience one of the best parks among Dubai's parks and resort. Book your Bollywood park tickets now at the lowest prices with CTC Tourism!
Dubai Aquarium And Underwater Zoo Tickets (DAUZ) Dubai aquarium and underwater zoo (DAUZ) is located on the ground floor of the Dubai Mall. The tank holds around 10-million liter of water making it one of the largest suspended aquarium in the world. It houses thousands of aquatic animals, 300 sharks, sting-rays and over 140 species. The largest collection of Sand Tiger Sharks in the world can be found here. The tank measures 51 meters in length, 20 meters in width and 11 meters in height Experience the real thrill and get up close and personal with the world's most amazing animals in their natural habitat with Virtual Reality Zoo (VRZoo). Fantastic adventures and experiences await you! Experience one of the best parks among Dubai's parks and resort. Book your Dubai Aquarium tickets at the lowest price with CTC Tourism now!
Dubai Night Tour Tickets Join us on this magical journey through a city of illuminated landmarks on this panoramic night tour under the stars. Sit back and relax while taking in the stunning views of Dubai by night, a city that will capture your heart. Our experienced tour guide will tell you all about Dubai and its traditions, existing landmarks and future projects during the tour. Start your tour from your preferred pick up location in Dubai or Sharjah (On Private Basis). Sit back, relax, and take in the ultra-modern skyline as the sun sets and the illuminated city comes to life. Pass by incredibly dazzling sites like Burj Khalifa, the world's tallest building, the impressive sail-shaped Burj Al Arab hotel and hold your gaze across the coastline on the sparkling Palm Jumeirah, a man-made archipelago resembling a palm tree. This tour highlights the best of this eclectic wonderland and provides you with a unique perspective of its near-dizzying blend of ancient landmarks and futuristic skyline.
Garden Glow Tickets Dubai Glow Garden is a unique recreation park which attracts and entertains audiences of all age groups. Explore and experience the magic, fun, and excitement. Apart from its creative installation, there are live musical shows and other performances from some of the best talents in the UAE. There is a special edutainment zone where kids can have interactive fun. For food lovers, there is a large food pavilion that offers delicacies from all around the world. After success in three seasons and three themes, Dubai Garden Glow invites you to experience the Magic of Four in Season 4. Dubai's Glow Garden welcomes back all smiling families to experience the fourth reason of artistic splendour at one destination. Dubai Garden Glow is a World of imagination with a skilful blend of World's unique art and theme creating an amazing concept. Experience 4 magical themes in one venue: Glow Park: The largest glow-in-dark garden made of Millions of energy-saving bulbs and yards of recycled luminous fabric. Dinosaur Park: The biggest Dinosaur Park that displays more than 120 animatronic Dinosaurs. Ice Park: The Polar climate in the Middle of the Desert with marvellous ice sculptures. Art Park: The very new 'Eco-Friendly ART Park' made up of thousands of recyclable bottles, ceramic dishes and CDs. Experience one of the best parks amongst other Dubai attractions. Book your Glow Garden tickets now!
City walk – Green Planet Tickets Green Planet is an indoor tropical rain forest with an expansive botanical museum, living plants, animals & birds. It is conceptualized to bring together nature and the science of nature. The combination of it amazes and inspires minds and makes them appreciate the natural world. The delicate layers of the forest have been recreated with the different plants and animals that inhabit it, providing a glimpse behind the veil of greenery. Learn how to nurture and protect the many beautiful, interesting and unique species that can be found within the forests of the world through this truly enlightening experience. Get an experience of a lifetime at one of the best parks among other Dubai parks. Book your City Walk Green Planet tickets now. Take a stroll with family and friends – Excitement awaits you!
Laguna Water Park Tickets Laguna Waterpark - A place where you can spend a day with friends, family and enjoy the sea, slides, and ambience. If you are looking to sit back and relax or want to have a blast by hitting the waves, Laguna Water Park is where you need to be! Laguna Waterpark is located at the heart of Dubai's coolest beachfront destination - La Mer. You can enjoy the most amazing panoramic view of the ocean and Dubai's skyline and get instantly transported to a carefree, seaside paradise. Buy your Laguna Waterpark Tickets now! Visit with your friends and families for a day of excitement and grab the best Laguna Water Park offers and deals today! Experience one of the best parks among Dubai parks and resort.
Lost Chambers Atlantis The Palm Tickets Surround yourself with sea life in a jaw-dropping walk through the glass tunnels of The Lost Chambers Aquarium at Atlantis the Palm. Sharks, stingray, piranhas, lobsters, and the tiniest seahorses are some of the creatures you will come face-to-face within this magnificent underwater world. Lost Chambers Aquarium is designed around the theme of the Lost City of Atlantis. The underwater tunnels serve as an experience into this lost civilization with shipwrecks and ruins. 10 beautiful chambers are inhabited by 65,000 amazing and colorful marine animals that you will ever experience seeing at one location. The aquarium includes a touch tank where you can pick up a starfish or caress a sea cucumber. You can also sign-up for a Behind the Scenes Tour to join the aquarium's animal experts, as they reveal the secrets of the deep sea creatures. Best of all, you will even have the chance to help feed some of the animals yourself or if you want to experience a true feeding frenzy, you can head to the breathtaking Ambassador Lagoon and watch professional divers nourish hundreds of indigenous marine animals from the Arabian Gulf. Whether you want to see or become a part of the underwater scene, The Lost Chambers Aquarium promises you and your family an adventure of a lifetime.
Marina Cruise Tickets For an out of the box dining experience, head out for a cruise along the classy Dubai Marina. Leaving from the Dubai Marina Yacht Club, our traditional wooden dhow offers fascinatingly unique views of modern Dubai. Take in the glorious views of the lavish architecture of residences, resorts, and shopping facilities, as you feast on a scrumptious fare of international cuisines served in a sophisticated setting exuding traditional charm. Adding to the dining experience are mind-blowing entertainment performances bounded by dazzling illumination and their multi-hued manifestation on Dubai Marina's water. With a complimentary drink upon arrival, great food, stunning views, and revitalizing entertainment activities aboard, it's easy to see why our dinner dhow cruise on Dubai Marina is a highly recommended trip.
Museum Of Illusions Tickets Dubai is a land of marvels and one cannot get enough of it. While the tallest building, the largest mall and the largest indoor theme park, amongst other things, would keep you hooked to this marvelous city, the Museum of Illusions, a recent addition, would surely leave you spellbound. The Museum of Illusions is as unique as it sounds and offers the visitors extraordinary sensory and visual experiences while being educational. The best part about this place is that unlike other museums, you do not have to be cautious about what you touch. On the other hand, this is an interactive museum and the more you touch and engage with the exhibits, the more fun you would have. Feel your head spin around in the Vortex Tunnel and experience growing short and tall within seconds in the Ames Room. Learn about the laws of perception at The Chair Illusion and check out how you really look like by looking into the True Mirror. Apart from this, The Bottomless Pit, Head on the Platter, Rubin's Vase, Rotated Room, Anti-Gravity Room, etc. would make sure that you have a great time. The Museum of Illusions is great for people of all ages. If you want to have a fun time as well as learn something new, book your tickets with CTC today!
Yas Water World Tickets Yas Water World Abu Dhabi is the only Emirati-themed water park in the world, inspired by the UAE's rich heritage. It is a host to 45 exhilarating rides and attractions out of which 5 can be found nowhere else in the world. With such a wide variety of slides and attractions, Yas Water World is a place for the young as well as the young at heart. Dawwama – the world's first hydro-magnetic tornado waterslide, and Bandit Bomber - the globe's first interactive water and laser rollercoaster are some of the best attractions of the Yas Waterpark. Yas Water World is awarded over 17 industry awards and accolades, including being ranked #4 in the Leisure & Entertainment Category in the 2015 YouGov Brand Index UAE Best Brand Rankings, and 2015 Travellers' Choice Award by Trip Advisor - the world's largest travel site for two consecutive years. It also enticed a number of A-List celebrities through its fortress-like doors. It's an opportunity of a lifetime! Get you Yas Water World Tickets today and hit the rides with your friends and family. Experience one of the best water parks among Dubai's parks and resorts.